CoffeeBreak is an e-newsletter distributed to Averett faculty and staff to keep them up-to-date on campus activities and information. Please send information you would like included in CoffeeBreak via this form by 4:30 p.m. Friday, June 23, for a Wednesday, June 28, publication.
Ehrhardt Presents at CLDE Meeting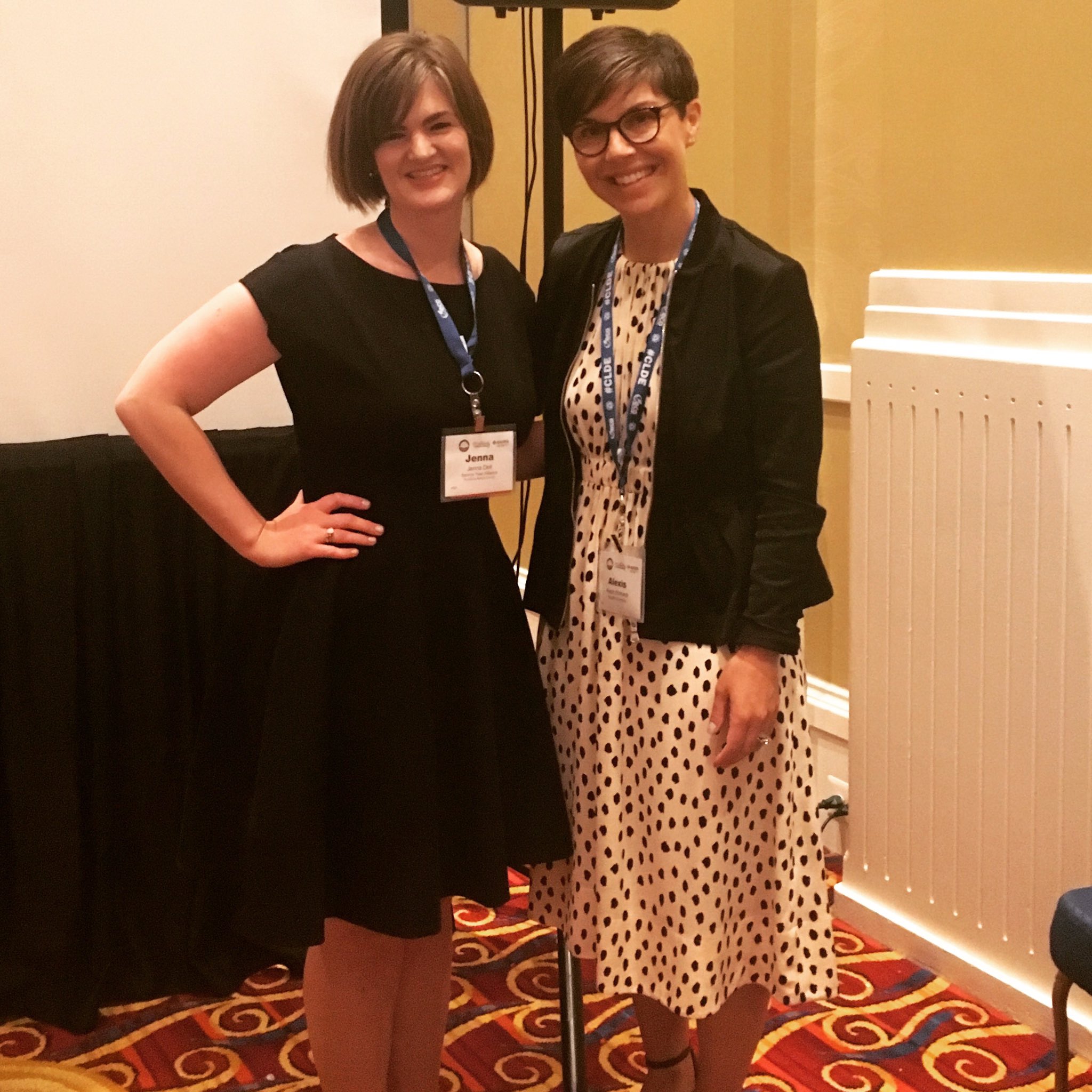 On June 9, Dr. Alexis Ehrhardt, executive director of the Center for Community Engagement and Career Competitiveness at Averett, and Dr. Jenna Dell, associate director of the Higher Education Partnerships at Service Year Alliance, presented at the 2017 Civic Learning and Democratic Engagement (CLDE) Meeting in Baltimore, Md. Their presentation, "Civic Action Through Service–Integrating Service Years on Campus," allowed the pair to discuss the concept of a Service Year broadly, and to share Averett's initiatives related to the Service Year as outlined in the Virginia Compact on National Service.
Averett Success Stories
Norah Holloway, '17, has accepted a position as a fourth grade teacher with Schoolfield Elementary in Danville, focusing on teaching reading and social studies. Norah majored in liberal studies with a concentration in English and social studies. During her time at Averett, she was a cheerleader and chapter member of the National Honor Society of Leadership and Success. Norah is originally from Poquoson, Va.
Taylor Meredith, '17, has also accepted a position as a fourth grade teacher with Schoolfield Elementary in Danville, focusing on teaching math and science. Taylor majored in liberal studies and minored in mathematics. She is originally from Greensboro, N.C.
Clare Daniel, '17, is starting the Medical Surgical New Graduate Nurse Academy with Moses Cone in August. She will be rotating through several hospitals and learning techniques and procedures which span across several fields. Clare majored in nursing, was in the National Society of Leadership and Success, and was also awarded the Nursing Leadership award for 2016. She is originally from Blanch, N.C.
GPS Student Spotlight
Throughout the month, the Graduate and Professional Studies (GPS) admissions team interviews and highlights our GPS students. We hope you will enjoy learning more about these amazing members of our Averett family!
Today, meet Katelyn Murray, who is pursuing her master of business administration. She is expected to graduate in 2019.
What is your motivation for obtaining your degree? "I agonized over going back to school for my degree. I'm currently very comfortable in my role at an independent financial planning firm located just outside Washington, D.C.; however, in about 10 years or so, I would like to own my own wealth management consulting firm and work directly with financial advisers all over the country to improve their practices. I felt an MBA would assist me immensely on the journey to becoming a wealth management consultant, but I just wasn't sure. For years I chewed on the idea of going back to school, worrying about the cost, the time commitment… you name it, I was worrying about it. Eventually, I got fed up with worrying and decided my MBA was worth going after because it would elevate me as a professional in my field. I'm looking forward to the journey."
Why did you choose Averett's Graduate & Professional Studies Program? "The program was the natural choice for me. I lived most of my life in the farmland surrounding the Danville campus, and I spent a lot of time visiting friends that attended Averett while I was completing my undergraduate education. Even though I was not an Averett student at the time, I was always made to feel at home and welcomed. It feels good to finally be a Cougar!"
Please share one tip for your fellow classmates and future AU students. "Practical tip: Buy a weekly planner and devote it solely to your GPS program. At the beginning of each class, plan out your weeks for the entirety of the class, writing out each reading , written  and discussion board assignment on the Monday of each week. Draw check boxes to represent the amount of responses required from your professor on each discussion board topic beside the topics in your planner, and check off the boxes each time you leave a comment on another student's post. This helps you track your discussion board activity to ensure adequate participation. Bonus impractical but perhaps more useful tip: Oscar Wilde gives the best advice—'Everything in moderation, including moderation.' Study hard, work hard, rest hard, and, yes, play hard, too."
What helps to keep you motivated while you are in the program? "I keep a hard copy of my GPS cohort calendar in my nightstand and check off each class as I complete it. Working my way down the list like a to-do list keeps me working toward the next milestone. Reviewing the list also provides me with a nice opportunity to reflect how much work I've put in, and it gets me excited about the upcoming courses on the list."
 
Staff Meeting and PC Cookout
There is a staff meeting tomorrow, June 22, at 11:15 a.m. in the multipurpose room. Immediately following, lunch will be provided courtesy of President's Council on the Student Center lawn from noon-1:30 p.m. Mark your calendar and join us for some good food and great company!
New Job Postings
Click here to check out the website for several new GA positions in the GPS program.
Women's Lacrosse Clinic
If your child missed the Averett Women's Lacrosse clinic last week, don't worry – they can make the next one! The Summer Lacrosse Camp will take place on July 27-29, from 9 a.m.-noon, at North Campus. All girls from 4-14 years of age are welcome. Equipment will be supplied. The players will need to register online and show up ready to play! They will also receive an Averett Lacrosse t-shirt. Register here. Contact Coach Kelly Ryan with any questions at kryan@averett.edu or (516) 652-7961.