By Jordan Bondurant, reporter for the Danville Register & Bee.
Typically during the month of February, basketball teams across the country wear pink to raise awareness for and stand in solidarity with survivors of breast cancer, which is the second-leading cause of death in women across the United States. But inside the Grant Center on Averett University's North Campus on Wednesday, it was a sea of teal.
Why teal? With February 4 being World Cancer Awareness Day, the Averett community wanted to show its support for and raise money and awareness for Carrie Hendrick.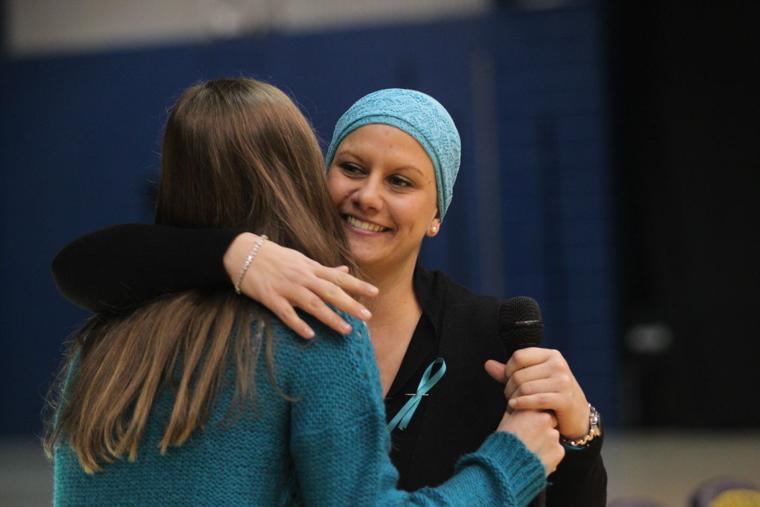 Carrie is the former head athletic trainer for the Averett athletic program, but also serves as director of the school's athletic training education program. She is currently battling ovarian cancer for the second time, and teal represents ovarian cancer awareness.
So Averett's Student-Athlete Advisory Committee organized an event and spread the word across the campus and Danville community for people to attend the games and wear teal as they raised money and support for Hendrick.
"Carrie has been a really big inspiration to a lot of us," said Nicole Barringer, president of SAAC. "We wanted to put this on and show her the amount of support that we have for her because of what she's done for us. It's our way of giving back to her."
Students clad in teal packed the stands along with others from the campus and Danville community. At halftime of the men's game against Ferrum College, Hendrick was invited to center court where she delivered an emotional speech to those in attendance.
"I'm humbled but kind of overwhelmed in a good way," Hendrick said. "I did better than I thought. I thought I was going to cry a lot more. But I really realized how many people care."
Given the type of cancer Hendrick has developed, she has been able to avoid a hysterectomy, which is the typical surgery women with ovarian cancer undergo. She says the main reason is she's still hoping to one day have children.
But while she is in the midst of chemotherapy, she says the reaction from students and her peers at Averett has been overwhelming.
"Averett University has been amazing," she said. "They've given me time off when I needed it, the students and coaching staffs have been there. I don't think you're going to get that at a lot of institutions or with a lot of employers."
According to the American Cancer Society, about 21,290 women will receive a new diagnosis of ovarian cancer in 2015, and of those newly diagnosed, about 14,180 will die. Ovarian cancer ranks fifth in cancer deaths among women than any other cancer of the female reproductive system.
The odds of being diagnosed with the disease is about 1 in 75, according to the ACS, but the rate at which women are diagnosed has slowly fallen in the last two decades. The diagnoses of ovarian cancer in women aged 20-34 makes up three percent of all new cases. The disease is more commonly found in women over 60.
But being in her 30s, Hendrick hopes that the event will serve as a great way to help raise awareness for the disease among the school's female population.
"It's important for me to help with these young women here at Averett," she said. "But it's going to help me get them to understand what they need to look for."
On the court, coaches wore teal ribbons on their lapels and teal ties, and the players all wore teal socks.
"She means a lot to all of us here on campus, especially us athletes," said Carter Jones, a center on the men's basketball team. "She's built bonds with us being the athletic trainer, and it means a lot that we can all rally around her tonight. It was great."
Proceeds from the event went to the Jimmy V Foundation, which does research for all cancers.